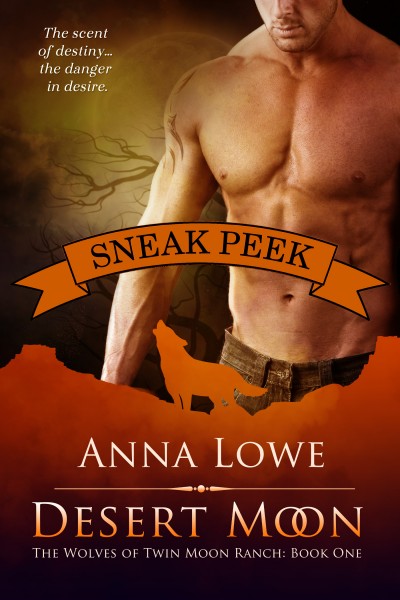 Claim your freebie!
You're about to claim a preview of Desert Moon (sneak peek)
By claiming a book, you are accepting the Prolific Works
Terms and Conditions.
Your email will be used for communications regarding your freebie and delivery preferences.
---
Description
A sneak peek of DESERT MOON, Book 1 of The Wolves of Twin Moon Ranch series!
The scent of destiny... The danger in desire.
Lana Dixon knows well enough to steer clear of alpha males, but Ty Hawthorne is as impossible to avoid as the sizzling Arizona sun. Her inner wolf just won't give up on the alpha who's tall, dark, and more than a little dangerous. One midnight romp under the full moon is enough for Lana to know she'll risk her life for him — but what about her pride?

Ty puts duty above everything — even the overwhelming instinct that says Lana's the one. She's the Juliet to his Romeo: forbidden. And with a pack of poaching rogues closing in, it's hardly the time to yield to his desires. Or is love just what this lonely alpha needs to set his spirit free?

This is a sneak peek only.